Why we love it
" Personally, I am very proud of our team only using wood that is FSC and PEFC certified for the Cotswold double wheelie bin store. I care about helping the planet and doing something like supporting sustainable forestry can really make the difference! "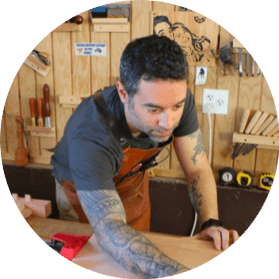 Reece
, Assistant Carpenter
Wheelie bins are commonplace in modern-day life. However, they are not the most beautiful thing, so what do you do? Our Cotswold double wheelie bin storage is perfect for keeping your bins safe and out of sight. Importantly it is a great opportunity to keep your rubbish safe from passers-by and wildlife. Specifically made for wheelie bins, the unit has received pre-treatment to keep it safe from bugs and fungi. The unit should be located on flat ground to provide secure grounding and structural integrity.
Our Cotswold experts have taken the time to perfect our Cotswold double wheelie bin shed, as a result, you can rely on getting a quality handmade product. It really is ideal for preventing your wheelie bins from getting damaged through the great British weather. All the wood our builders use is FSC and PEFC certified, as a result, this means you are supporting sustainable forestry practices.
Our double wheelie bin storage unit is fully enclosed on three sides, as a result, it uses less raw materials and is less damaging to the environment. It also makes annual maintenance of the wheelie bin store easier. The unit has been designed to be stood flat against a fence or wall but we do offer a back unit if required. A great wheelie bin storage unit provides above all unrivalled value and a safe home for your wheelie bins.
Our painted wheelie bin storage unit is handpainted using only OSMO country colour. OSMO is specially designed for use on wood that is situated outside and helps protect the wood for years to come. Our marine grade fixing kit adds additional strength for high usage locations. It also adds a beautiful contrast to darker paints and is perfect for locations with changeable weather.
Cotswold Double Wheelie Bin Storage Specifications:
Handmade from FSC and PEFC Scandinavian redwood,
Able to hold two 120, 140, 180, or 240-litre wheelie bins,
Easy access to wheelie bins with lifting lids,
Pre-treated with special green treatment to protect from bacteria and fungus,
Freestanding wheelie bin storage,
Roof designed to prevent water pooling,
Designed and handmade in the UK,
10 Year Guarantee,
Easy Assembly,
Important Note: As our wheelie bin stores are made using fully natural products, as time goes on they will settle based on the ground they are placed on. If the ground is not flat and level you may occasionally need to refit the doors to allow smooth opening and closing.
Cotswold Double Wheelie Bin Storage Dimensions:
Storage for up to Two 180/240 Litre Wheelie Bin
External Dimensions: 1150 mm x 1580 mm x 840 mm (H x W x D)
Internal Dimensions: 1100 mm x 750 mm (per bay) x 740 mm (H x W x D)
This is a handmade natural product and therefore there are some tolerances of +/- 10 mm.
Delivery Information:
Our Cotswold double wheelie bin storage unit is delivered flat packed on a pallet by our delivery partners. This makes the delivery eco-friendly, as a result, it reduces how much carbon dioxide it is responsible for. We provide all fixtures along with the product and detailed instructions. For this product, our customer feedback has been that it takes around 1 hour and 30 minutes to assemble. We advise that two people are present for construction to assist.
This unit is handmade to order and therefore delivery times can fluctuate. We currently estimate that this unit will be delivered within 2-3 weeks from point of order. However, we will be in contact with you to arrange a delivery date that is suitable for you.
You may also like…
Along with our double wheelie bin storage, we also have several products that complement each other, while improving your garden.
Combination Wheelie Bin Storage
Small Log Store
Large Log Store