Why we love it
" Personally, I love spending time with my family out in my garden around a fire pit. I'm happy that I don't need to worry about all the smells and smoke that comes from wet logs. We keep our logs in a log store and it keeps them dry and ready to burn all year round! "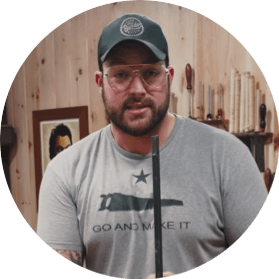 Misha
, Assistant Carpenter
Our handmade Cotswold small log store provides a place to keep your supply of logs safe and secure. It keeps your logs off the ground, resulting in them being in the best condition when it comes to using them. Our homely log cover keeps firewood dry, neatly organised in any driveway, garden or garage. Our handmade wooden log cover comes with an open front to improve air circulation around the logs. This helps keep the wood fresh, dry, and away from the worry of damp and rot. We advise that if possible the log cover is south facing. This allows more sun to reach the log store and will help to keep the logs warm and dry until use.
Our team based in the Cotswolds has handcrafted this small log store to fit in any environment. It is perfect for anyone who has an open fireplace, chiminea, or wood-burning stove but uses it infrequently. We create all our products using eco-friendly products. We only use wood that is both FSC and PEFC certified. As a result, it means the wood used for all our log stores are sourced using responsible forestry management. Therefore this allows you to be comfortable in the knowledge that you are doing your part to reduce poor foresting practices.
Cotswold Small Log Store Specifications:
Made from FSC and PEFC Scandinavian redwood,
Pre-treated with special green treatment to protect from bacteria and fungus,
Free Standing log store,
Roof designed to prevent water pooling,
Designed and handmade in the UK,
10 Year Guarantee,
Cotswold Small Log Store Dimensions:
External Dimensions: 1130 mm x 1140 mm x 830mm (H x W x D)
Delivery Information:
Our Cotswold small log store is delivered flat packed on a pallet by our delivery partners. This is done to increase how eco-friendly the product is and decrease the chance of damage during transit. Most importantly, we provide all fixtures along with the product and detailed instructions. For this product, our customer feedback has been that it takes around 45 minutes to put together. We advise that two people are present for construction to assist with the build.
This unit is handmade to order and therefore delivery times can fluctuate. We currently estimate that this unit will be delivered within 7-8 weeks from point of order. However, we will be in contact with you to arrange a delivery date that is suitable for you.
You may also like…
Along with our small store, we also have several products that complement each other, while improving your garden.