Metal Wheelie Bin Storage
SAVE £150 – Use code Metal150 to save £150 on all metal wheelie bin storage units.
Our Metal Wheelie Bin Stores are the best we have found on the UK market. Made from high quality galvanised steel and with stainless steel fixings as standard.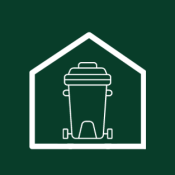 For years the UK has suffered with three main options; Look at their wheelie bins, Hide the wheelie bins in a plastic bin store (that blows away, looks cheap or is damaged easily), or buy a wooden bin store that needs consistent maintenance to keep the wood looking the best
With our metal wheelie bin stores, you really get the best of all three with none of the drawbacks. They look much better than any wheelie bin will do, they are hardwearing and will never blow away and they need much less maintenance compared to wooden bin stores.
Why should I have a Metal Wheelie Bin Store?
Metal Wheelie Bin Stores are probably the ideal material for your wheelie bin storage unit. Metal reduces maintenance requirements, increases longevity and will keep its colour for much longer!
What Sizes of Metal Wheelie Bin Storage Units Are There?
We have metal wheelie bin stores in all sizes you can imagine! Including:
and we can also provide storage for seven-wheelie bins, eight-wheelie bins and even more!
Do I need to maintain my Metal Wheelie Bin Store?
Metal wheelie bin stores require much less maintenance than their wooden counterparts. The metal on our wheelie bin stores is powder coated to protect against the elements. This makes them weather and rust-resistant, they will still need cleaning when they get dirty, but very little in comparison.