About Us
Welcome to Wheelie Bin Storage. We are the UK's leading supplier of wooden and premium metal wheelie bin stores. All of our wooden units are designed and handmade in the Cotswolds. Our team has designed all our wheelie bin covers to fit in with any garden, driveway, or patio.
We live in a world where everyone needs to reuse, reduce and recycle. To take care of the environment, households have more bins than ever! However, they do not help make your garden or driveway any more attractive! But, we have the solution a new bin store!
Why Buy From Us?
When investing in an item that you want to last for years, you need to make sure it will do. Well, we have some good news, all of our wooden wheelie bin storage units are guaranteed to last. Our Metal Wheelie Bin Stores are crafted in conjunction with our carefully selected partner. They have worked with some of the biggest companies in the world and produced amazing wheelie bin stores that look amazing and last for years.
We have over 40 years of experience working with wood. Therefore, you can be sure that the product you receive will be top quality and last for years to come. Our team focus on making a product that will last. Our products are market-leading, they are more substantial, hardwearing and weather-resistant than other wheelie bin storage units.
If you want to know why we are the best bin store provider in the UK, we have selected a few points:
We prioritise the environment – All the wood we use is FSC or PEFC-certified, supporting sustainable forestry.
We offer FREE Delivery – We don't charge for delivery to London and offer free delivery to mainland UK.
Our business is proud to be British – We are based in Tewkesbury and all of our units will be delivered to you from us.
We offer fast delivery – Some of our products can be delivered with next working day delivery from ordering.
Meet The Wheelie Bin Storage Team
All our wooden products are handmade by our experts in our workshop in Tewkesbury. The team, led by Chris, has grown to house a small loyal team of designers and garden furniture makers. They work together to create beautiful bespoke designs and handcrafted furniture solutions. Most importantly, they have years of experience in handmaking wooden wheelie bin covers, as a result, you are guaranteed to get a quality bin store.
We have also developed a range of metal wheelie bin stores with a world-renowned metal manufacturing partner who has worked with celebrities such as Terry Crews and organisations including Mercure, Hilton and L'Oreal. We can honestly say our metal wheelie bin storage units are a fantastic piece of craftsmanship and quality.


Head Carpenter

Assistant Carpenter


Assistant Carpenter
Wheelie Bin Storage Magazine
Why You Need A Bin Store
There is no doubt about it, wheelie bins can be extremely practical. Especially if you live in a large family home that generates lots of household waste. But the fact is, they do nothing for your curbside appeal. Big, bulky, and often brightly coloured, wheelie bins can be a real eyesore for proud homeowners. Therefore, many households turn to bin stores to keep their ugly rubbish receptacles out of sight and out of mind until collection day.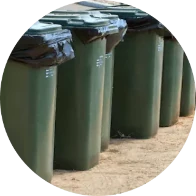 1. Aesthetic
When made from premium quality, pre-treated timber, wheelie bin storage units are both practical and aesthetically pleasing. Designed to hide your plastic wheelie bins from view, while still allowing quick and easy access, they are a great investment for anyone who is tired of seeing ugly wheelie bins cluttering up their garden or driveway. Made to look like a small wooden shed or chest, wooden wheelie bin stores look fabulous. They are ideally located in manicured gardens, patios, and terraced properties with virtually no outdoor space. In addition, as they are designed to withstand adverse weather conditions, they retain their smart appearance for years to come. Did you know we also offer our stores painted? As with everything we only use the best quality outdoor paint – Osmo. This service is available as either a painted by us or painted by you option depending on your preference.
2. Keep Local Wildlife at Bay
The beauty of a wooden bin store is that it can be locked to keep the local wildlife at bay. If you live in a rural area, it is likely that you have experienced rodents and pests emptying the contents of your bin all over the garden! This simply doesn't happen with a wheelie bin store. Especially if they are floor-mounted as there are no points of entry. Therefore, rats, squirrels, foxes, and badgers become your neighbour's problem – not yours!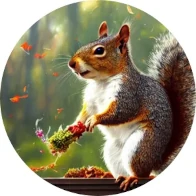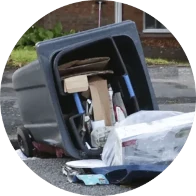 3. Weather Resistance
The Great British Weather is anything but 'great' during the winter months. While council-issued wheelie bins are made from water-resistant plastics, they stand little chance in gale-force winds and torrential rains that can see them blown down the street or filled with water. With a wheelie bin storage unit, your bins remain securely enclosed within the weather-resistant structure, so they stay exactly where you left them, and your rubbish remains your business!
4. Environmentally Friendly
We handmake our handmade wooden wheelie bin storage units from pre-treated timber sourced from FSC or PEFC certified forests. As a result, this means that during the harvesting process, consultations were held with local communities and wildlife habitats were protected. It also upholds the highest social and environmental standards in the sourcing forests where the wood came from. An eco-friendly alternative to plastic wheelie bin stores. Our wooden storage units are both recyclable and biodegradable. Making them the obvious choice for environment-conscious homeowners who care about the planet.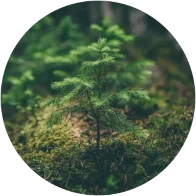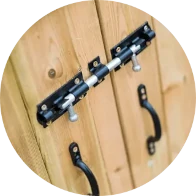 5. Prevent Unauthorised Access
Fly-tipping is already a problem. Some councils have a three-week rubbish collection. With these issues, the fly-tipping problem is not likely to improve anytime soon. However, if you have found your bins filled with other people's rubbish, a double-wheelie bin storage unit is the solution. Not only are they lockable with regular padlocks. They can be secured to the floor with the optional purchase of ground-fixing bolts. It allows you to create a solid structure that can prevent tampering and unauthorised access. Meaning you can keep your wheelie bins safely locked away until collection day.