Parcel Storage
Our home Parcel Boxes are the best solution for people who use courier services and want to keep their parcels secure and dry, even if they are away from home.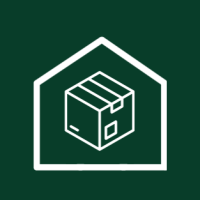 Do I need parcel storage? Most households will receive at least 4 parcels a week, according to a study reported in the Independent. Not many people are happy to leave parcels outside in rain, wind or snow. Even fewer are happy with their valuable items being left on the doorstep where anyone who walks past could pick them up. This is where parcel stores come in…
What is Parcel Storage?
Our Parcel Stores are a lockable storage unit that sits outside of your house and allows delivery couriers to leave your parcels securely at your home. It is kept secure by couriers accessing one section to put in a parcel which then gently falls into the bottom locked compartment.
Our metal parcel storage units are superior to wooden alternatives because they are more eco-friendly, as they require fewer trees to be cut down. But they also offer increased protection from changing weather.
Where should you put Parcel Storage?
This does very much depend on your house layout, however, we would recommend placing it close to your front door. This allows couriers to easily place parcels inside. However, we also have parcel stores that can be placed in a bank with our wheelie bin storage units.
Do I need to maintain my Parcel Storage?
This depends on the material your parcel store is made from. Our range of metal parcel stores are made from galvanised steel and all the fixings are stainless steel. This means that it is built to last for years and only needs minimal maintenance with soap and water.
We also offer a wood-fronted parcel store which has the same structural integrity but includes a rustic and warm aesthetic. The wood for this will need maintenance. Other full wooden parcel stores will need extensive treatments inside and out to provide full longevity.