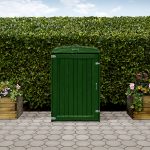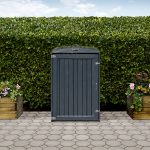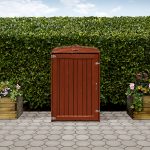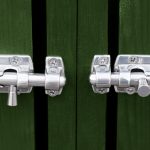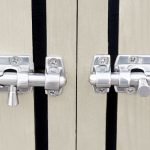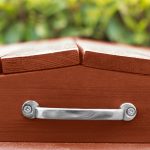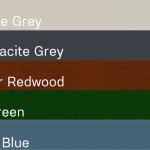 Burford Single Wheelie Bin Storage
Suitable to hold a wheelie bin between 120 and 240 litres, it has been designed to seamlessly fit with your garden. The unit features a simple lid lifting system to allow easy access to your wheelie bins. The marine grade stainless steel fixing kit adds a luxury touch to your wheelie bin storage unit (standard fixings are plain black stainless steel) and is painted with OSMO country colour.
Please note: If you select DIY painting we will supply you with your wheelie bin store and a tin of OSMO Country Colour in the colour you selected. If you select unpainted, please select DIY Paint, no paint will be sent.
Most people use their wheelie bin at least once a week but there are no doubts about it, wheelie bins do absolutely nothing for how your garden looks. This is where our helpful single wheelie bin storage units can come in handy. Designed to keep your wheelie bin hidden away safely, they will instantly improve your gardens curb appeal.
Our single wheelie bin storage unit will fit perfectly into your garden. All of our products are designed and handmade in the Cotswolds by our skilled carpenters. Our team have over 40 years of experience working with wood and have the expertise to deliver a beautiful bin cover. The Burford range of bin stores all have a more traditional peaked lid. Our modern wheelie bin stores have been designed using
Our Burford wheelie bin storage units are designed to be freestanding wheelie bin storage shed. They are made only from FSC and PEFC Scandinavian redwood timber. This allows you to feel comfortable about having a wooden wheelie bin storage unit, as all the wood used comes from sustainable forests. We also use hardwearing stainless steel screws and top-quality fittings to make sure that our storage units will last for years and years.
We hand paint all of our units with OSMO country colour and provide a choice of five colours as standard. However, we do have other colours available if required, please pop our team a message via live chat and we can discuss additional colour options.
Burford Single Wheelie Bin Storage Specifications:
Handmade from FSC and PEFC Scandinavian redwood,
Able to hold a single 120, 140, 180, or a 240-litre wheelie bin,
Pre-treated with a special green treatment to protect from bacteria and fungus,
Specially designed to prevent water pooling,
Designed and handmade in the UK,
Easy Assembly,
Important Note: As our wheelie bin stores are made using fully natural products, as time goes on they will settle based on the ground they are placed on. If the ground is not flat and level you may occasionally need to refit the doors to allow smooth opening and closing.
Burford Single Wheelie Bin Storage Dimensions:
Storage for Single up to 240 Litre Wheelie Bin
External Dimensions: 1210 mm x 790 mm x 825 mm (H x W x D)
Internal Dimensions: 1100mm x 720 mm x 760 mm (H x W x D)
This is a handmade natural product and therefore there are some tolerances of +/- 10 mm.
Delivery Information:
Our Burford single wheelie bin storage unit will be delivered flat-packed on a pallet by our delivery partners. This makes the delivery eco-friendly, as a result, it reduces how much carbon dioxide it is responsible for. We provide all fixtures along with the product and detailed instructions. For this product, we estimate that assembly takes around 1 hour. We advise that two people are present for construction to assist.
This unit is handmade to order and therefore delivery times can fluctuate. However, we will be in contact with you to arrange a delivery date that is suitable for you. If you need to confirm delivery dates before ordering please contact us on live chat or give us a call.
You may also like…
Along with our single wheelie bin storage, we also have several products that complement each other, while improving your garden.