Why Wheelie Bin Storage Will Improve Your House Value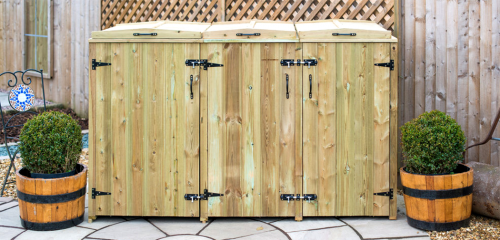 Read any blog on how to increase house value and you'll find tips like spruce up your driveway or tidy up your garden. But what about investing in wheelie bin storage? Beaten up wheelie bins in full public view don't exactly add up to your home's kerb appeal. Here's why wheelie bin storage will improve your house value.  
It Improves Kerb Appeal And Your House Value
The biggest tip estate agents give when talking about how to increase house value is to improve its kerb appeal. What first impression would a prospective buyer get if the first things they saw were your smelly wheelie bins?
Wheelie bin storage looks attractive, complements your home and garden. Meaning that when people come to view your house, you get the added benefit of a great first impression!
Wheelie Bin Storage Keeps Things Tidy
The Great British weather is unpredictable at the best of times. What you don't want the night before viewing is your wheelie bin getting blown over and leaving a mess on your lovely lawn. Wheelie bin storage will protect your bin from the elements and keep it and its contents secure.
Wheelie Bin Storage Prevents Thefts And Reduces Crime Rate
Unfortunately, Wheelie bin theft is a common occurrence. Unfortunately, any kind of theft can have a negative impact on the value of your home.  When you're thinking about how to improve your house value, preventing wheelie bin theft should be on your to-do list. Wheelie bin storage keeps your bin safe and secure from theft while allowing you easy access. 
Increase Your House Value By Preventing Pest Problems
Many pests are attracted to rubbish in our bins. From flies to foxes, they're all on the lookout for a tasty morsel from your bin. So a pest problem is something you definitely don't want if you want to improve your house value. Imagine if you went to view a home and there were flies swarming around a bin right next to the kitchen window. You'd probably say 'thank you, next.'
Pests can also knock bins over or pick at garbage and drop it all over your driveway or garden. Not a good look. Wheelie bin storage can prevent pests from gaining access to your bin.
We hope we've given you some handy tips on how to improve your house value. Investing in wheelie bin storage is a worthwhile investment to improve the look of your home and keep your bins safe from theft and pests. So you can now sit back and watch the offers roll in. However, if you are looking for more tips and interesting articles on all things wheelie bin storage, check out the rest of our blog.