What is Better? Wood or Plastic Wheelie Bin Storage?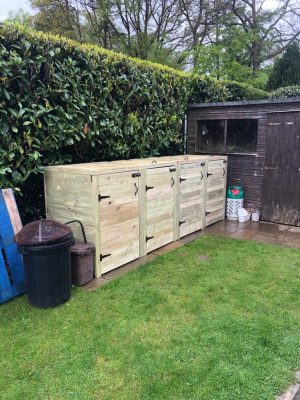 So you're fed up with looking out into your lovely garden and seeing your clunky bins. And don't even mention the fact that they're constantly blowing over. You've decided to invest in wheelie bin storage. But what's best, wooden wheelie bin storage or plastic wheelie bin storage?
Why you need wheelie bin storage
Wheelie bin storage is a savvy investment. Don't believe the hype? Whether you're procrastinating about buying wood or plastic wheelie bin storage, here's why you need it.
Firstly, it hides your less than aesthetically pleasing bins from view so you can enjoy your garden. Secondly, it keeps out pests (the human and the animal kind). A wheelie bin storage unit will prevent foxes, thieves, and vandals from getting at your bin. And let's not forget, your wheelie needs all the protection from the elements that it can get. Yep, it does that too.
Should I choose wood or plastic wheelie bin storage?
Wooden wheelie bin storage looks great and it's easy to find a unit that complements your garden. Add a planter or a trellis to make a garden design statement, with no wheelie bins in sight! If you opt for wood, it's usually treated to withstand the elements, so it will go the distance.
Plastic wheelie bin storage is lightweight, portable, and durable. It's easy to move around your garden if need be, and once it's in place, it will stand the test of time.
Which is better?
Well, our opinion is that while some wheelie bin storage is better than none, we would say wooden wheelie bin storage has the edge.
Wood beats plastic in the looks department
If you want to hide your plastic wheelie bins to make your garden more aesthetically pleasing, wood is the best choice. It will blend in great with that fence you constructed. Plus, there are plenty of options to dress it up. Wood wheelie bin storage can transform your outside space. You might not want to hide away your plastic bins with a plastic wheelie bin storage unit. Just saying.
Wood wheelie bin storage is more eco-friendly than plastic
Another huge benefit of wood over plastic wheelie bin storage is that it's eco-friendly. Our wheelie bin storage units are made from quality timber that's sourced from FSC certified forests. FSC certification is a guarantee that the wood is sourced according to the highest environmental standards. Before even one tree falls, communities are consulted and wildlife habits are protected. Plastic wheelie bin storage is great for many reasons. However, you might not want to invest in something that while durable, is likely to end up as waste.  Wood wheelie bin storage is recyclable and biodegradable. It's just about the best you can buy for the planet.
For more interesting tips and articles on everything wheelie bin storage, check out the rest of our blog.