Why we love it
" We absolutely love our burford quadruple wheelie bin storage unit. It is perfect for the biggest family households and will last for years! We have taken customer feedback and delivered a unit that has improved thickness out the outside of the wheelie bin store. Compare to other similar models it is much thicker and can survive repeated footballs kicked against it! (Trust me my nephew has tested it!) "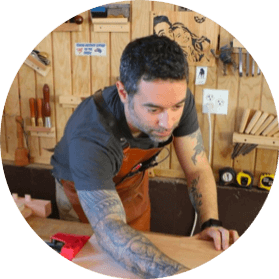 Reece
, Assistant Carpenter
Our quadruple wheelie bin store is one of the largest wheelie bin storage units we offer. It is designed in the shiplap style to help build a rustic feeling in your garden. Our quadruple wheelie bin storage is ideal for gardens with patios and decking, the shiplap style will fit right in.
Handmade in the UK, it is perfect for hiding four wheelie bins away. Ideal for keeping your rubbish safe from the elements. The ideal way to keep rubbish off your lawn on a windy morning! Our OSMO country colour helps to enhance the natural features of the wood while protecting it for years to come! All of our units come painted by our experts before delivery.
Burford Shiplap Quadruple Wheelie Bin Store Specifications:
Handmade from FSC and PEFC Scandinavian redwood,
Able to hold four 120, 140, 180 or 240 wheelie bins,
Pre-treated with special green treatment to protect from bacteria and fungus,
Specially designed to prevent water pooling,
Designed and handmade in the UK,
Easy Assembly,
Important Note: As our wheelie bin stores are made using fully natural products, as time goes on they will settle based on the ground they are placed on. If the ground is not flat and level you may occasionally need to refit the doors to allow smooth opening and closing.
Burford Shiplap Quadruple Wheelie Bin Store Dimensions:
Storage for Four 180/240 Litre Wheelie Bins
External Dimensions: 1180 mm x 3185 mm x 820 mm (H x W x D)
Internal Dimensions: 1080 mm x 700 mm (per bay) x 800mm (H x W x D)
This is a handmade natural product and therefore there are some tolerances of +/- 10 mm.
Delivery Information:
Our Burford wheelie bin stores will be delivered flat packed on a pallet by our delivery partners. This makes the delivery eco-friendly and reduces how much carbon dioxide it is responsible for. We provide all fixtures along with the product and detailed instructions. For this product, we estimate that it will take around one hour and thirty minutes to assemble. We advise that two people be present to assist with construction.
This unit is handmade to order and therefore delivery times can fluctuate. We currently estimate that this unit will be delivered within 4-5 weeks from point of order. However, we will be in contact with you to arrange a delivery date that is suitable for you.
You may also like…
Along with our quadruple wheelie bin store, we also have several products that complement each other, while improving your garden.