COVID-19 Wheelie Bin Cleaning & Disinfection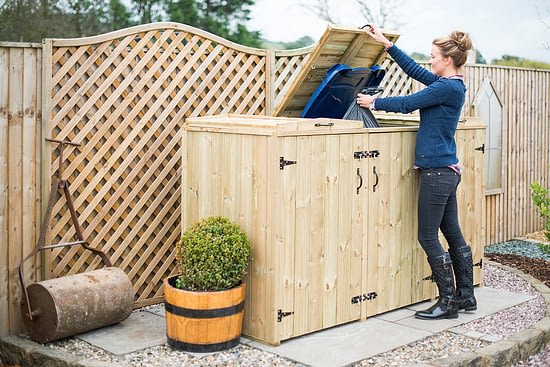 The kids are back at school, the shops and pubs are open. The UK vaccine programme seems to be a success, the weather is nice and wheelie bin cleaning is out of mind! After what seems like the longest lockdown in history, we are finally on a road map to freedom. But we're not out of the woods yet.
With mutant variants popping up all over the world, we must continue in our fight against Covid-19. While most of us are cautiously optimistic that we'll get back to normality on 21st June. The Government warns that we should remain "measured and cautious" if we are to avoid a devastating third wave.
Staying on top of daily cleaning tasks, particularly on items touched by others, such as wheelie bins and recycling boxes, is the easiest way to keep our families safe. In this article, we'll share our top tips on wheelie bin cleaning and disinfection. Meaning you can keep your rubbish receptacles virus free and smelling fresh all summer long.
Wheelie Bin Storage
Most of us have a love-hate relationship with our wheelie bins. We love that they are large enough to accommodate our household waste. But we hate that they are bulky, unattractive, and sometimes smelly. We need them, we use them, but we don't necessarily want to see them. So storing wheelie bins in a stylish wooden bin store is a great way to keep them out of sight until bin day.
Wheelie bin stores can also help keep vermin and unpleasant odours at bay. While restricting unauthorised access to anyone passing by your house. They are a modern solution to a problem that many homeowners face. An investment for any garden.
How To Keep Your Wheelie Bin Covid-Clean
When the pandemic first hit, most of us took extra precautions when putting out our wheelie bins and recycling boxes. Wearing disposable gloves became the new norm, as did spritzing everything we touched with disinfectant or sanitiser, but it seems many of us have dropped our guard.
According to WHO, the Covid-19 virus can survive for up to 72 hours on plastic such as wheelie bins. Collecting them after being handled by various members of your local collection teams (who may have already touched several other receptacles that day) could put you at risk. Here's how to mitigate that risk by keeping your bins Covid-clean:
Always wear disposable gloves or regular household gloves such as Marigolds when handling your wheelie bins. If using the latter, wash them thoroughly after use.
Clean wheelie bin handles and lids using a disinfectant. An antibacterial cleaning solution can provide an alternative, before returning them to your wheelie bin storage.
Check the inside of your wheelie bin after every collection. Flies and maggots can be a real problem during the summer months. The earlier you catch them, the less likely they are to infest your bin store.
Keep a pair of gloves next to your wheelie bin and wear them every time you open and close the lid.
Hose down your wheelie bins and recycling boxes often to keep them clean, smelling fresh, and most importantly, virus-free.
If you fall into a high-risk category and would prefer not to handle your wheelie bins during the pandemic, several wheelie bin cleaning companies in the UK can help. Look online for your nearest service provider.
How To Dispose of Household Waste If You Have Coronavirus Symptoms
If you think you have Covid-19, you should take extra care before depositing household waste into your wheelie bin. We know that the virus can live on plastic materials for three or more days, and if your bin bags are contaminated, they could easily infect your waste collection team.
WHO recommends that if you have coronavirus symptoms. You double bag rubbish and set it aside for at least 72 hours before placing it in your wheelie bin. Storing these bags in your wheelie bin store or garage will prevent unpleasant odours in the home.
If you don't have a wheelie bin store yet, please browse our collection today. We offer a choice of stylish solutions to complement both private residences and business premises. Along with combination storage options for the safe storage of wheelie bins and recycling receptacles.
If you'd like more tips and articles on all things wheelie bin storage, check out the rest of our blog.