Creative Conversions: Top 3 Shed Conversions for 2016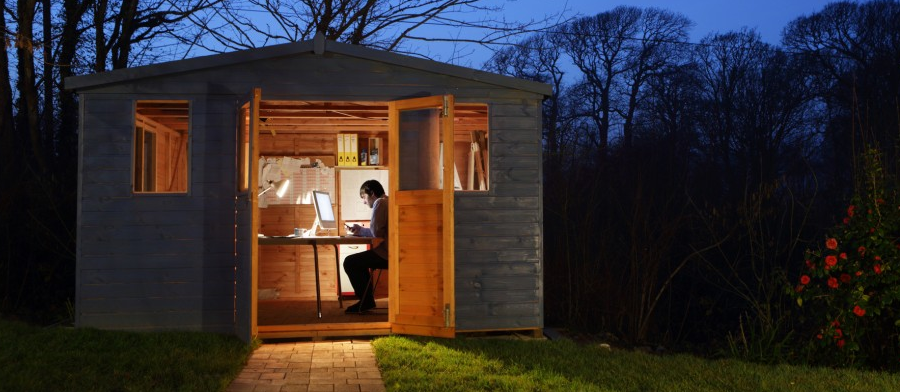 If your shed is cluttered with gardening equipment, overcrowded with patio furniture and covered in cobwebs. Now is the perfect time to give your garden a makeover. Shed Conversions are taking the gardening world by storm, there is now an official 'Shed of the Year' competition. Created for creative gardeners who have transformed their humble garden shed into something much more appealing. Designed to celebrate the Great British Shed, the Readersheds Shed of the Year Competition is open to everyone. Entries close on 16th May 2016, so you need to get a move on if you are to be in with a chance!
What are the options?
When it comes to converting your shed, the sky (and your budget) is the limit! You could transform it into a fully functional home office, a workshop, a beauty parlour, a sauna, a 'man cave', or even your own back garden pub. The possibilities are endless, it all comes down to the size of your shed, and the stretch of your imagination.
If you would like to convert your garden shed, but don't know where to start. Our Top 3 Shed Conversions for 2016 could give you the inspiration you need to head out into the garden this weekend, whatever the weather and create something to be proud of…
Shed Conversion 1: The Office
If you work from home, chances are, there are laptops, printers, telephones and computer cables cluttering up every room. A Garden Office Shed Conversion will help you declutter your home, claim back that spare bedroom. Creating a quiet working area where you can shut yourself off from the housework and daytime TV and concentrate on the job at hand.
Getting started is easy. You first need to check the structure of your shed to make sure the walls, ceiling and floor are stable. After a good clean, you will need to insulate your shed so that you can work outdoors all year. The next stage is installing lights, a WIFI router and electrical points for your computer equipment (speak to an electrician if in doubt). Before adding office furniture, shelving units, and anything else you might need to make it comfortable.
A lock on the door and voila! You have converted your garden shed into a fully functional home office.
Shed Conversion 2: The Back Garden Pub
Pub Sheds are right on trend for summer 2016. If you love entertaining at home, this shed conversion is the perfect choice for you. Converting your shed into a back garden pub is relatively easy. You simply need a solid structure, a bar, electrical sockets for your fridges and shelving for your glassware.
Optional extras include optics, beer taps and if you have access to plumbing nearby, a sink for washing glasses. But none of these is essential, you can make a fantastic little pub shed without them. Of course, you will need a licence if you intend to sell alcohol, but you could always advertise BYO!
There is nothing quite like relaxing in a back garden pub with friends and family over the weekends, and when combined with a traditional British BBQ and warm sunshine (a rarity in the UK, we know!), it can feel like a mini holiday.
Shed Conversion 3: Man (or Woman) Cave
We live in a fast-paced world, and as such, many of us have little time, let alone space for ourselves. If you would love your own private retreat where you can kick back, relax, read a book, work on your creative projects, or simply do nothing at all. Then why not convert your garden shed into your own private man cave, or indeed, woman cave!
With this type of shed conversion, you can let your imagination run wild. Indulge with soft furnishings, a comfy recliner and a shelf full of your favourite books. Or create a super cool entertainment zone with games consoles, a fridge of chilled beers, and a funky futon where you can stretch out as you battle it out in Game of Thrones!
There are so many shed conversion possibilities out there, why would anyone want to use it for a lawn mower? If you are interested in even more helpful tips and interesting articles on all things wheelie bin storage. Check out our blog.