Give Your Wooden Storage Units Some Maintenance

If you're looking into buying a storage unit for your wheelie bins, garden tools, kids' toys and everything else you don't want cluttering up your lawn. Chances are you'll opt for something made from wood. Wood is sturdy, aesthetically pleasing, and it can add a certain something to your garden. But remember, it is a natural material and all wooden storage maintenance, is vulnerable to the elements.
For wood that lasts longer, we would always recommend buying treated wood (all of our products come pre-treated) . But you'll still need to look after it to boost its longevity and get the most out of it for your money.
What is treated wood?
Treated wood is wood that is pre-treated with wood preservative. This protects the wood against damp and insects. This is important given the changeability of the UK weather and the fact that you don't want to invest in a lovely new wheelie bin storage unit and have bugs chomping away at it only a few weeks later.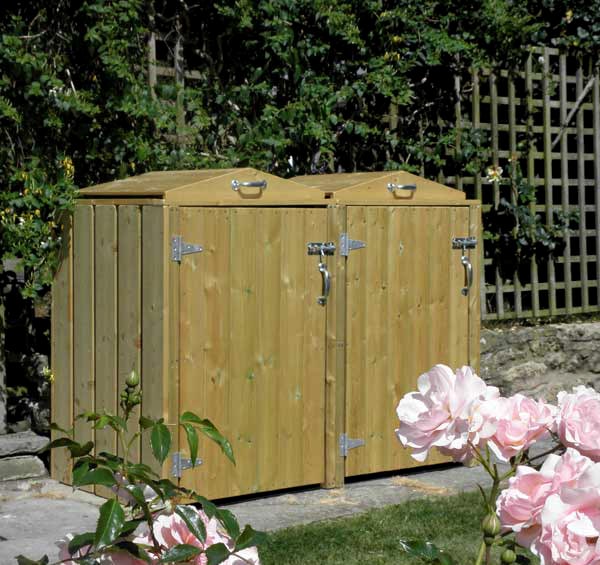 Why do I need to maintain your wooden storage that's already been treated?
The wood preservative protects the wooden storage maintenance from dampness but not always from weathering. Weathering can be caused by extremes of temperature and the sun. Therefore, causing the wood to crack or warp. So what should you do to keep your wooden storage units looking as good as possible for as long as possible?
Best Wooden Storage Maintenance tips
You can use a sealant
Sealer is an extra level of protection for the wood. It should be placed on as soon as you receive your storage unit then annually after that. Ideally, choose a sealer with UV protection to protect your storage unit from the sun.
You can stain it
Stain adds colour to the wood and makes sure your new storage fits with the rest of your garden furniture. A good quality stain should be water-repellent and offer some UV protection. Stain can only be put on to dry wood, so don't apply it until you've had your new unit for about a month.
You can paint it
If you want to customise your storage unit to suit the style of your garden, with all wooden storage maintenance always use a sealer first. Wait a few days, then apply a decent primer followed by a few coats of topcoat.
If you are interested in even more helpful tips and interesting articles. Check out our blog.