Good Looking Wheelie Bin Store?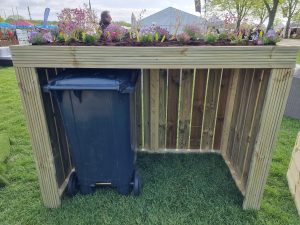 If your beaten-up wheelie bins are the talking point of your garden, something needs to change. You could invest in a wheelie bin store. One of the best things about wheelie bin stores is that they are far better looking than the average wheelie. On the hunt for good-looking wheelie bin storage? Start here.
Introducing the Kensington Double Planter Wheelie Bin Storage Unit
They say that it's what's on the inside that counts. Well, we would beg to differ. Our Kensington Double Planter Wheelie Bin Storage Unit is one good-looking wheelie bin store. It was shortlisted in the 'Glee 2022-New Product Awards' so we guess you could say it's a bit of a show-stopper.
So what does that mean for your garden? Well investing in some good-looking wheelie bin storage like the Kensington will:
Allow you to brighten up your garden with your favourite blooms
Whether you want a few pretty plants or a full-on mini Chelsea flower show, you can. Because the planter on top of the unit is sloped to assist with drainage, we recommend you plant shallow-rooted plants. Pansies and petunias will do well, as will herbs like basil and thyme if you fancy a mini kitchen garden.
Complement any garden
The contemporary design will complement any garden and will be a far better talking point than your worn-out wheelies.
Help you bring colour to your outside space
As well as letting you brighten your outside space with beautiful blooms, we can paint the planter too. Want to complement your garden furniture or make your wheelie bin storage unit a real focal point? We can paint it in OSMO country colour. Just jump on the live chat and ask our friendly team for more details.
The Kensington Double Planter Wheelie Bin Storage Unit – other benefits
Of course, it's not just good-looking wheelie bin storage you want, you want something that's practical too. This unit is a winner on both counts.
As well as hiding your wheelies from view, this freestanding planter wheelie bin storage will protect them from thieves, pests, and the elements.
Not only that, it allows you to make the most of your outdoor space. Don't have extra space in the garden for any more plants? This storage unit gives you that extra space and makes your garden a relaxing and pleasant place to be.
What features does Kensington have?
It's handmade in the Cotswolds from sustainably sourced Scandinavian redwood;
It has a capacity for two 120, 140, 180 or 240-litre wheelie bins;
The unit is pre-treated with a special green treatment to protect it from bacteria and fungus. This means it will look great for longer. It's super easy to assemble.
Looking for wheelie bin storage?
If you're on the lookout for a good-looking wheelie bin store that's also practical, the Kensington is a great choice. Are you ready to elevate your outside space? If you are still on the fence then why not give us a call so we can talk you through your options and discuss any questions you may have. We are a family business and have been making our own bin stores in-house for 10 years. All our stores are made by carpenters and we use either a clear treatment if we are painting your store or a green treatment if you are having it natural.
Get in touch with our friendly sales team to find out more about this stunning handmade product and the other products that will complement it perfectly. For more interesting articles on wheelie bin storage and how to improve your garden, check out the rest of our blog.