How to Secure Wheelie Bins During a Storm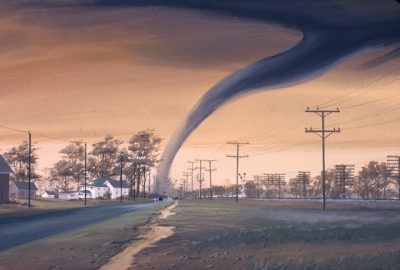 While the calendar might say we're on our way to warmer and brighter days, the UK weather likes to keep us on our toes. Just when you thought it was safe to leave your wheelies out in the open, along comes driving rain and strong winds. So how can you secure wheelie bins in a storm? Read on to find out.
Why secure your bins in wild weather?
Rubbish ends up all over your garden and litters the street. Bins blow down the street, causing a nuisance and they might even damage vehicles or property. It pays to secure your bins in bad weather.
How to secure wheelie bins in a storm-our top tips
When your bin is ready to go out for collection
Is there a storm brewing on collection day? Look inside your bin and think about whether you really need to put it out. If it can wait until the next collection day, keep your bin on your property and safe from the elements.
If it's full to the brim and needs collection, try to put it out just before collection. Leave it unattended in the street longer than it needs to be and it's more vulnerable to the bad weather. Bring the bin back onto your property as soon as you can after collection, or ask a neighbour to bring it in for you.
Secure wheelie bins in a storm-ideas to consider
Store your bins somewhere secure
Got a designated storage area for your bins? This is one of the best ways to protect them from the elements. This could mean housing them temporarily in a shed, garage, or fenced-off area. If none of these are possible, there are other options.
Secure it with bungee ropes
You could position your bin next to a wall or fence, then secure it with a bungee rope to stop it from blowing over or away. Fit hooks in the wall or fence, then tie the rope around your bin. It's not the most attractive-looking solution and it can be a hassle unhooking them on bin day, but it can work!
Fit a bin lock
Forever picking up rubbish from your garden or retrieving it from the street because your bin lid has blown open? Fitting a bin lock could solve the problem. They are practical and super easy to install.
Could I just weigh my bin down with something heavy?
You could. We've seen people weighing their bins and bin lids down with bricks, rocks, and all sorts of things. If you do this, however, there are a few things to consider. The first is to remember that you'll need to remove the heavy object come bin day.  The second is you'll need to make sure there's no chance of it injuring anyone or damaging property.
Have you considered wheelie bin storage?
If you want to secure wheelie bins in a storm, there's no better-looking way to do it! Not only does a handmade wooden wheelie bin storage unit improve the look of your garden, but it protects your bins too. As well as keeping your bins safe and secure in bad weather, it protects them from pests, thieves, and vandals too.
In our beautiful handmade range of wooden bin storage units, you'll find something that will complement your garden, hide your bins from view, and protect them, whatever the weather.
Want to find out what kind of wheelie bin storage could be perfect for you? Just choose how you want to contact us and our friendly sales team will be happy to help. For more tips on garden storage and making the most of your outside space, check out the rest of our blog.