Why Spending Time Outdoors is the Perfect Mood Booster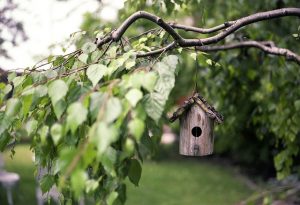 Have you ever felt sad or stressed, then went for a walk or spent time in the garden and felt so much better? That's the power of being in nature. What is it about those green spaces that lift us and brings us almost instant calm? Here's why spending time outdoors is the perfect mood booster.
Why Is Spending Time Outdoors So Beneficial?
There's nothing like being outdoors in nature to bring you right into the moment. Most of us live on constant autopilot, thinking about the past, and worrying about the future. No wonder we're stressed.
If the sun is shining, there are even more benefits. Exposure to sunlight early in the day boosts your energy and regulates your body's natural rhythms. Ever wondered why everything seems better when the sun is shining? You're not imagining it. It's because sunlight stimulates the production of serotonin, a mood-boosting neurotransmitter.
As well as all this, when you're spending time outdoors, you're more likely to be active too. Physical activity can boost endorphins, feel-good chemicals which lift your mood.
What Does the Research Say?
Recent research suggests that just being in nature is beneficial to health. A 2018 study by King's College London found that spending time among trees, sky, and birdsong can improve mental health.
How You Can Reap the Benefits of Spending Time Outdoors
Go for a Walk
Many of us discover the mood-boosting power of a walk in nature during the lockdowns. Walking doesn't cost a thing. However, the benefits of spending time in green spaces surrounded by flowers and trees are priceless.
Get Gardening
If you have an outside space, you've got a lot of potential mood-boosting benefits literally on your doorstep. So what are the benefits of spending time outdoors in your garden?
It keeps you active
Gardening is the perfect way to stay active. You might not think that gardening is better than going to the gym. However, all that digging, raking, weeding, and moving plant pots counts towards your daily activity tally.
It relieves stress
Gardening is a mindful activity that helps you focus, brings you into the moment, and relieves stress.
Gardening is rewarding
Although it can be hard work, gardening is also very rewarding. Feeling the satisfaction from growing your own veg or admiring how great your lawn looks can really boost your mood.
It helps you to eat well
They say you are what you eat. If you grow your own produce, you can enjoy fresh fruit and veg and improve your physical and mental health. Food can be a huge influence on your mood and energy, so eat the good stuff and you'll thrive.
Gardening is good for kids too
Spending time outdoors is great for kids. It keeps them active. It helps get them away from screens and out in nature. The natural world has so many learning opportunities. Show them how to grow plants and vegetables. Look for wildlife in the garden. Teach them about why it's important to care for the environment. There are so many benefits to encouraging your kids to get out in the garden.
Don't Have a Garden? No Problem
If you don't have a garden but want to reap the benefits you have a few options. You can sign up for an allotment or you can join a community gardening group in your area. As well as all the other benefits of spending time outdoors, you get to meet like-minded people too.
We think spending time in nature is the best medicine. So as the weather improves, get out for a walk or get your gardening gloves on. Happy brain, happy body! For more interesting articles, check out the rest of our blog.