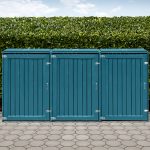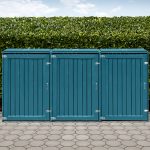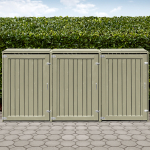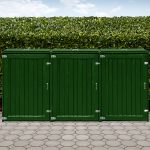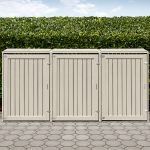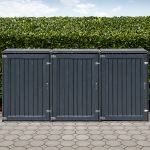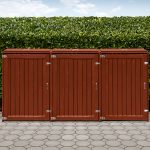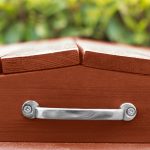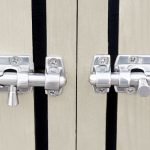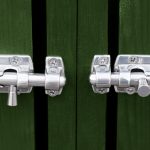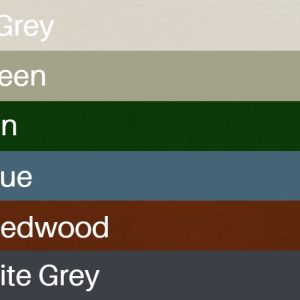 Cotswold Triple Wheelie Bin Store
Our Triple Cotswold Wheelie Bin Storage is a must for larger family households. It is ideal for keeping three wheelie bins secure and safe. Handmade by our expert team in the Cotswolds, it uses only FSC and PEFC Scandinavian redwood. It is capable of holding three wheelie bins between 120 and 240 litres.
We handpaint all of our wheelie bin storage units with your choice of OSMO country colour paint. If you have any questions are team are available to help.
Please note: If you select DIY painting we will supply you with your wheelie bin store and a tin of OSMO Country Colour in the colour you selected. If you select unpainted, please select DIY Paint, no paint will be sent.
There is nothing worse than waking up in the morning and seeing rubbish all over your garden. That is where our triple wheelie bin store comes in. It is perfect for keeping your rubbish in your bin. It holds three wheelie bins and keeps your wheelie bin protected from the weather and hungry animals. Our triple wheelie bin store undergoes a green pressure treatment to keep it safe from fungi or bacteria. The unit should be located on flat ground to avoid any bowing or damage.
Our Cotswold experts have taken the time to make sure the Cotswold range of wheelie bin stores is the best on the market. You can guarantee that you will be getting a quality handmade wheelie bin enclosure that will last for years. It provides the best way to protect your wheelie bin from the weather and those pesky animals. All the wood our talented woodworkers use is FSC and PEFC certified, as a result, this means you are supporting sustainable forest management.
Our Cotswold triple wheelie bin store is handpainted by our experts using OSMO country colour oil-based wood paint. It provides a finish that looks amazing and enhances the natural features of the wood. OSMO helps top reduce wood swelling and shrinking and keeps your unit looking amazing for longer.
Cotswold Triple Wheelie Bin Store Specifications:
Handmade from FSC and PEFC Scandinavian redwood,
Able to hold three wheelie bins, ranging between 120-360 litres,
Easy access to disposing rubbish with lifting lids,
Pre-treated with special green treatment to protect from bacteria and fungus,
Specially designed to prevent water pooling,
Designed and handmade in the UK,
10 Year Guarantee,
Easy Assembly,
Important Note: As our wheelie bin stores are made using fully natural products, as time goes on they will settle based on the ground they are placed on. If the ground is not flat and level you may occasionally need to refit the doors to allow smooth opening and closing.
Cotswold Triple Wheelie Bin Store Dimensions:
Storage for Three Wheelie Bins
External Dimensions: 1150 mm x 2370 mm x 825 mm (H x W x D)
Internal Dimensions:
This is a handmade natural product and therefore there are some tolerances of +/- 10 mm.
Delivery Information:
Our Cotswold triple wheelie bin store is delivered by pallet via our delivery partners. The unit comes flat-packed, as a result, the delivery is more eco-friendly. We provide all fixtures along with the product and detailed assembly instructions. For this product, our customer feedback has been that it takes around 1 hour and 30 minutes to assemble. We advise that two people are present for construction to assist.
This unit is handmade to order and therefore delivery times can fluctuate. However, we will be in contact with you to arrange a delivery date that is suitable for you. If you need to confirm delivery dates before ordering please contact us on live chat or via phone.
You may also like…
Along with our triple wheelie bin storage, we also have several products that complement each other, while improving your garden.