Upcycling to Give Your Garden an Eco-Friendly Makeover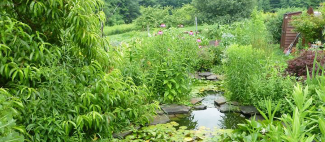 In these days of austerity and increased awareness of the need to look after the environment. Upcycling has become more popular. We are all looking for new ways to reduce our impact on the environment, especially in and around our own homes.
Upcycling is like recycling, but even better and it involves only a small amount of effort and a big amount of imagination.
Upcycling is when a discarded product is given more value by being reused in a new and different way. This is opposed to recycling, which involves converting products into new materials. Where, unfortunately, the quality of the original item is nearly always reduced.
Repurposing old and unwanted items preserves raw materials and energy. Let's not forget, sometimes your creations can look quite trendy too!
Upcycling isn't just for your home though, you can use it to transform your garden. With upcycling, there's no limit to what you can do. Take an object, think outside the box, change the colour, and use it in a different way. You'll end up with something unique for your garden. While doing your bit for the environment at the same time.
Upcycling ideas for your outdoor space
Create some outdoor lighting
Upcycle some lights from old mason jars, or jam jars and either hang them up or rest them on a bed of sand. Coloured glass makes for really good mood lighting.
Create some funky structures for climbing plants
Old bike wheels welded together or fastened together with wire are great for runner beans and sweet peas to climb up.
Upcycle an old greenhouse into a gazebo
If you have a greenhouse that has seen better days and you don't want the expense of re-glazing it. Why not turn it into a gazebo? A new coat of paint will give the frame a new lease of life. Add a few atmospheric lights and climbers here and there can make for a nice little garden sanctuary.
Use driftwood
Look for driftwood on beaches and in forests to create plant supports and makeshift garden furniture. Paint or stain the wood so it fits in with the style of your garden.
Create pretty planters
Coloured teapots and tin kettles look the part when used as planters.
Feed the birds
Create bird feeders from old lanterns. Drill them and thread them with lengths of steel.
Water features
These will need a pump if you want to keep the water healthy. An old tin bath or metal water tank is perfect for creating a small makeshift pond.
Upcycling a fire pit
As the temperature drops, you might be able to extend your evenings with a fire pit on your patio. Upcycle an old washing machine drum, add legs or support it on bricks, for some outdoor warmth as the nights draw in.
Make some unique garden furniture
Use natural resources or upcycle some old furniture. If you can find some old wooden chairs, it is fun to get the family involved and painting a chair each. Large logs which you can take from your wooden log stores are a great option to create some unique pieces for your garden. Large cut logs which are about 3ft high can serve as seats, just add cushions!
If you are interested in even more helpful tips and interesting articles. Check out our blog.