What Colour Should I Paint My Wheelie Bin Store?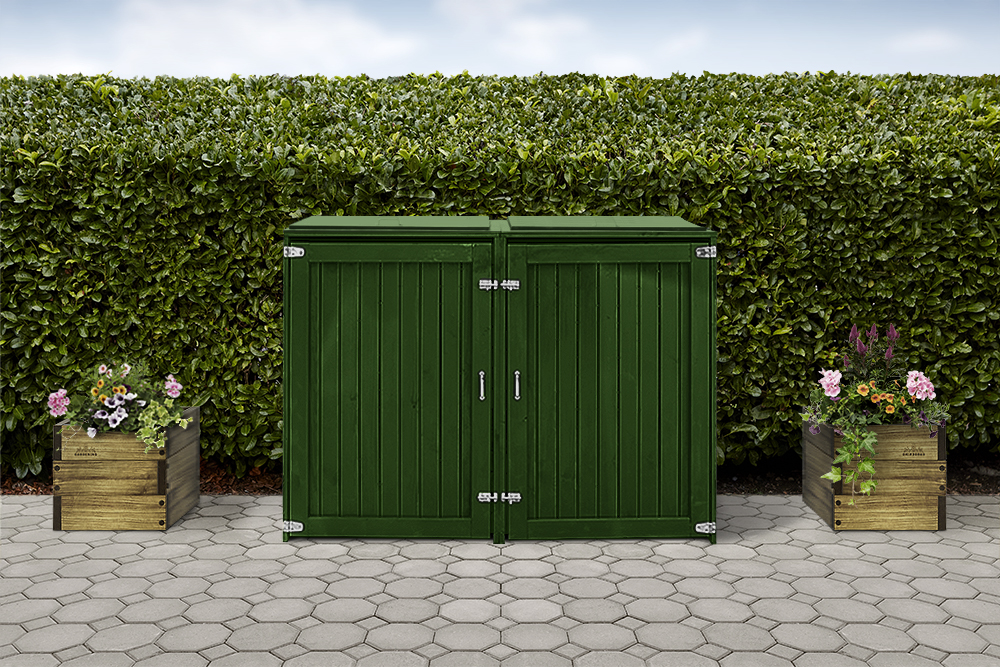 You've bought some swanky wooden wheelie bin storage but you want to give it a bit of personality. What about painting it? However with loads of options out there, what colour should you paint your wheelie bin store?
Which Colour Should I Paint My Wheelie Bin Store?
When it comes to choosing which colour to paint your wheelie bin store, there's a few things to consider. Firstly there's the obvious decision about how you want it to look. Secondly, there's knowing that colours have meaning. There's a whole world of psychology, history, and theory behind them. Who knew?
Want to Compliment Your Surroundings?
Want a cottage garden feel? You might want to opt for chic, light colours that compliment garden furniture or existing structures.
Pale blues or light greens can work really well. They generally withstand the weather better and will last longer than more vibrant colours.
Greys can also work well, and they don't have to be boring. They can look quite chic.
Did you know?
Light blue is associated with calm and serenity. It might just be the perfect colour to paint your wheelie bin store if you want your garden to be a relaxing haven.
Prefer green? If green is your favourite colour, you're likely to be a practical, down-to-earth person with a love of nature.
Did you know that grey is an amazing complementary colour? It will bring out the best in shades of green, blue, or pink.
Want to Paint Your Wheelie Bin Store in an Accent Colour?
Look at your flower bed. There might just be a shade in there that you can pick out and create an accent with. Accent colours are usually bright and deep, so just remember that these colours tend to fade faster. Worth thinking about if your wheelie bin store is in a sunny part of the garden.
Want to Go Bold?
If making your wheelie bin store blend in isn't for you, you could opt for a bold shade like red or yellow. It can make a great feature of your bin store, though the colour can fade fast. Be prepared to give it a new lick of paint every now and again.
Did you know?
If you want to keep up with the Joneses (or have a better garden than them), red might be a great choice. According to a 2005 British study, athletes wearing red had an advantage over other competitors. One explanation is that in psychology, red is considered to be intimidating and related to power.
If you opt to paint your wheelie bin store yellow, consider this. Centuries ago, yellow was the colour of royalty in China and of the Gods of Ancient Egypt. If it was good enough for them, it's good enough for your wheelie bin store.
What About Using Two Different Colours?
If you're torn between two colours, why not use them both? Paint the bin store body with one colour and the doors with another. Make sure you choose colours that complement each other. Check out the colour wheel. Look at your first colour and see which colour is exactly opposite that shade on the wheel. This is your perfect complementary shade.
Before You Paint Your Wheelie Bin Store
We know you can't wait to slap on your chosen colour but remember to follow these rules for a great result;
Make sure the wood is completely dry. Try to paint it on a sunny day if possible;
Sand your wheelie bin store before you paint it for a smooth finish;
Use an undercoat and wait until it's completely dry before applying your chosen colour.
Many people love the look of their wooden wheelie bin store as it is. However, a few coats of paint in the right colour can really add personality and enhance the look of your garden. All that's left is to choose your colour!
For more interesting articles on wheelie bin storage and making the most of your garden, check out the rest of our blog.