How Much Should a Wheelie Bin Shed Cost?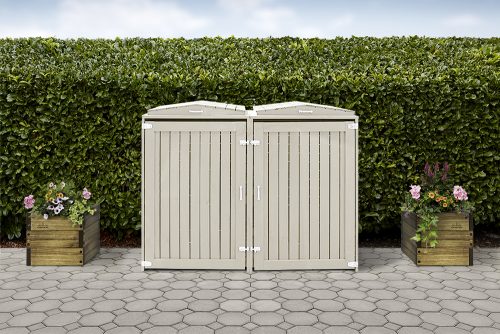 Love them or hate them, wheelie bins are a necessity for modern living. However, most people don't want them to be the main focus of their garden. A wheelie bin store is the best way to keep bins safe, secure, and out of sight. But how much should a wheelie bin shed cost?
How Much Should a Wheelie Bin Shed Cost?
The answer to this question is that it depends on whether you*;
Want to build and install it yourself;
Hire someone to build and install it;
Buy a Ready-Made unit.
* We're basing it on a wooden wheelie bin shed because we think they're the best choice for most people. They are more attractive than metal or plastic sheds and you can paint them to suit the style of your garden.
The Lowdown on Wheelie Bin Shed Cost
Building and Installing Your Own
Got ninja-level woodworking skills? Building and installing a wheelie bin shed should be a simple project for you. It can work out cheaper, but only if you have the skills to do a good job. For a single unpainted wheelie bin store, materials will cost around £200-£300. This is assuming you are using good quality sustainably sourced wood that is designed to be placed outside consistently. Not all wood is suitable for dealing with the great British weather and will disintegrate quickly. We would also always recommend using sustainably sourced wood. Without using sustainable wood you are doing more harm to the planet and are leaving it damaged for future generations. By using sustainable wood you are doing your own little bit.
Don't forget all the little extras, you'll need screws, nails, glue, hinges and bolts. All of these need to be of good quality and suitable for being outside. Without quality fixtures and fixing, you leave yourself open to creating a wheelie bin shed that will last for months instead of decades.
Not confident in your carpentry skills? Think about getting someone in to do the job for you or buying a ready-made unit. If you go it alone and mess things up, you can end up wasting your time, materials and money.
Hiring Someone to Build and Install Your Wheelie Bin Shed
Yes, hiring someone obviously ramps up the wheelie bin shed cost. Though keep in mind that good tradesmen will be able to do the job faster, better, and quicker.
Expect to pay a carpenter or joiner around £150-£200 per day. If they haven't got plans or a design to go off expect to be paying around 2-3 days of labour. This would include one day to design it, one day to cut it and build the framework, and then one day to assemble it. Don't forget to consider the cost of materials on top.
When it comes to wheelie bin shed costs, we don't think that price should be the only deciding factor. Kudos if you're skilled enough to build your own. Hiring someone else is a good option too if you lack the skills and time. However, we think it's totally worth buying a ready-made wheelie bin shed. Take our wheelie bin sheds for example.
Our carpenters offer some beautiful handcrafted and bespoke designs;
The team have years of experience in making handmade wooden units so you're guaranteed quality;
We only use sustainably sourced Scandinavian redwood in our products. We also reduce waste and repurpose wherever we can;
Our units come flat-packed but they are super easy to assemble. Enlist a willing helper and it should only take around 1.5 hours to build your shiny new wheelie bin shed.
We can even paint the bin store for you and we use only the finest paint – Osmo.
We think that investing in ready-made wheelie bin storage is the best way to show your outdoor space some love. Take a look at our range and we know you'll agree. For more interesting articles on all things wheelie bin storage, check out the rest of our blog.