Is it Illegal to Leave Wheelie Bins on the Pavement?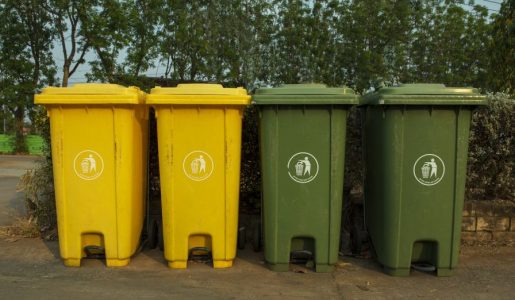 Hands up who put their bins out too early for collection? Or do you leave yours out for far too long afterwards? You might not think it's an issue, but is it illegal to leave wheelie bins on the pavement? Let's look.
The Problems Caused By Leaving Your Bin Out on the Street
We've all been there. We've been walking down a residential street and a bin has blocked our path. The only alternative is to walk on the road which isn't the safest. If you leave wheelie bins on the pavement, they cause an obstruction. This is a particular problem for elderly individuals, disabled people and parents with pushchairs.
Another problem is when you put bins out too early or leave them out for long periods, they become a target for thieves and vandals. Especially as the nights get darker.
Is it Illegal to Leave Bins on the Pavement?
Leaving a bin out on the pavement is not a criminal matter, but it is a civil one. The government has given local authorities the power to issue fines for persistent breaches of the rules.
There are a lot of different rules around bins and rubbish which can cause confusion. The government's advice to councils is that fixed penalty notices should be issued as a last resort.
Leaving Bins Out on the Pavement – What are the Rules?
According to government advice, councils can take the following action under section 46a of the Environmental Protection Act 1990.
Councils CAN issue fixed penalties when people leave wheelie bins on the pavement if:
It causes an obstruction such as forcing people with wheelchairs or pushchairs to go on the road;
Bins are left out for several days, restricting access to the pavement or street;
Bins and/or bin bags are likely to attract vermin;
Bins are overturned or damaged and it looks unsightly.
Councils CAN'T issue fixed penalties for minor issues such as leaving bins out for a few hours before collection.
What to Expect If You Leave Wheelie Bins on the Pavement
If you persistently leave your bin out in the street for too long, here's what you can expect:
You'll get a written warning telling you how you've broken the rules, what to do instead, and what will happen if you don't comply.
If you fail to comply with the warning, you'll get a notice of intent. This will tell you that you're getting a fixed penalty notice. You can appeal this within 28 days of the date on the notice.
You'll get a final notice 28 days after the notice of intent. This tells you how much you have to pay when you have to pay it and what happens if you don't pay. The maximum fixed penalty is £80.

If you are leaving your bins away from the house because it is distracting from your house's kerb appeal then you have a couple of options. Your first option would be to keep your bins around the back of the house. The second option which has been shown to increase the value of your house is to invest in a beautiful bin store
Avoid Breaking the Bin Rules
Here's how to avoid flouting the rules and getting a fine:
Don't put your bin out too early and take it in at an appropriate time. If you are working late or you're going to be away, ask a neighbour to put your bin out and take it back in.
Don't overfill your bin. Some councils won't take additional waste that's left next to a bin. They also may not empty your bin if it won't shut. If your bin is often too full, try and reduce what you throw away. If you have a large family, you may be able to ask your council for a larger bin. If you do just have a lot of extra waste in any given week, take it to a local household recycling centre.
Don't put recyclables in your waste bin. Councils are clamping down on this because it's costing them money. If you do this, you'll get a warning sticker on your bin or you can end up with a fine. Some people have even had their bins taken away by their council for repeat offending!
So there you have it, if you leave wheelie bins on the pavement, it's not illegal. However, you can end up with a fine. Plus it causes a whole host of problems for others. Be a good neighbour and take in your bin! For more exciting articles on bins, waste, and the environment, check out the rest of our blog.