Product Review: Burford Quadruple Wheelie Bin Store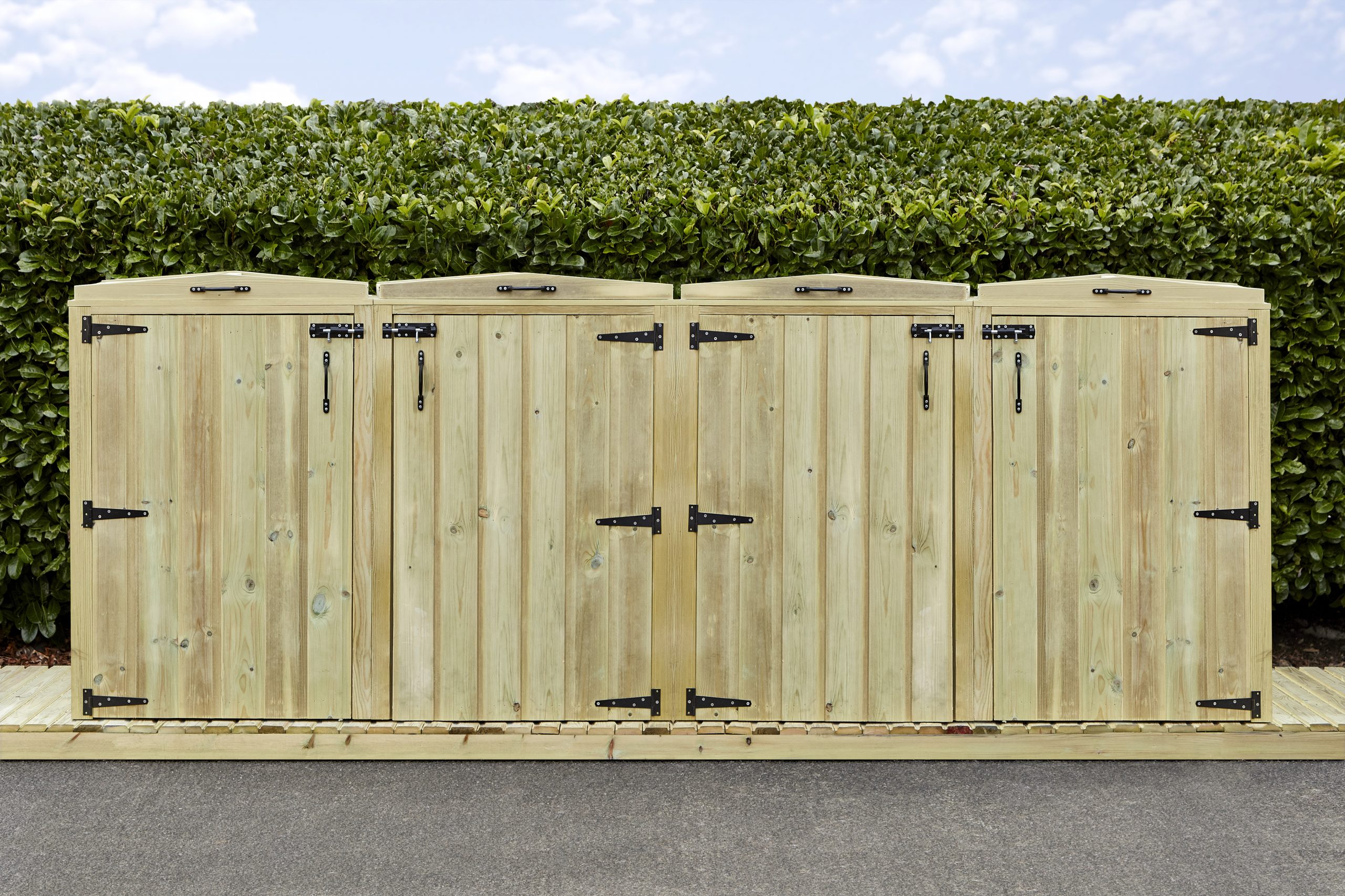 Got a big family and a stylish garden? You might not want multiple wheelie bins cramping your style. You want them secure and out of sight. What's your best bet? Enter our Burford Quadruple Wheelie Bin Store.
Why Invest in the Burford Quadruple Wheelie Bin Store?
If you've got a large family and several wheelie bins, this is a perfect choice. This beautiful quadruple wheelie bin store is one of the largest units in our range. Designed in the shiplap style to bring a rustic feel to a modern garden, it houses four wheelie bins. No more unsightly bins taking the shine off your patio or decking. No more picking up rubbish from your lawn on a windy day. Bliss!
Product Specifications
Material: Handmade from sustainably sourced Scandinavian redwood;
Capacity: Able to hold four 120, 140, 180, 240, or 360-litre wheelie bins;
Ease of access: Very easy access to your wheelie bins;
Is the wood treated?: Yes, it's pre-treated with a special green treatment to protect it from bacteria and fungus;
Easy to assemble?: Based on two-person assembly, it takes around 1 hour 30 minutes to assemble;
Worth a special mention: The unit is specially designed to prevent water pooling.
Why Choose a Quadruple Wheelie Bin Store from Us?
We care about quality. We excel at the details. The environment is important to us! From the materials our carpenters use to construct the units, to the practical yet stylish designs, we're obsessed with every detail.
What Sets Us Apart?
We only use sustainably sourced wood
Search for a quadruple wheelie bin storage unit online. Not all of them are from sustainable wood. Ours are. When you buy one of our units, you can rest assured that the wood was sourced from a sustainable forest. We know that forests are being depleted and we want to be part of the solution, not the problem.
All the Screws Are Stainless Steel
Put inferior fixtures and fittings out in the not so great British weather and what do you get? Corrosion and rust. That's why we supply weather-resistant stainless steel screws with all our units.
Our Wheelie Bin Storage Units Have a Thicker Outer Construction
We use thicker outer slats on our units to protect them from impact. This makes sense because you don't want to pay good money for something that's going to fall apart. A heavier construction means that it will stay standing, no matter how many footballs the kids kick against it!
If you have a bigger family, that means more wheelie bins. However, that doesn't mean they need to clutter up your lovely garden. Invest in our Burford Quadruple Wheelie Bin Storage Unit as the perfect rustic complement to your outside space.
For more articles and advice on wheelie bin storage, check out the rest of our blog.