What Garden Storage Options Are There?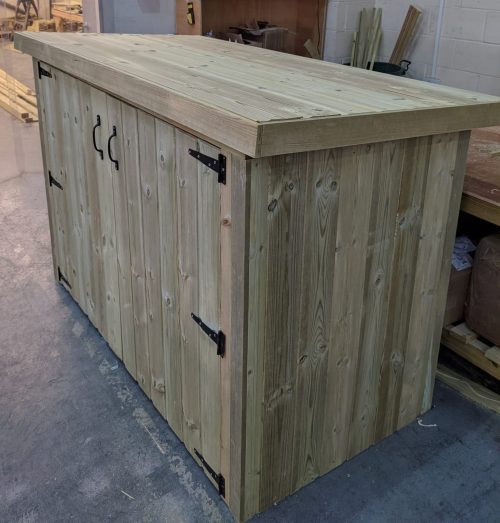 Your shed is full to the brim yet your garden is still full of clutter. You need to disguise those wheelie bins before you can invite people around for summer gatherings. From tools to kids' toys and more, you desperately need somewhere to put them. We go through the wooden garden storage options available to you.
What Are the Benefits Of Having Garden Storage?
It Keeps Your Outside Space Organised
Would you love your garden more if the kids' toys weren't scattered over the lawn? Wouldn't it be great to have somewhere to stash the garden furniture cushions in a downpour? Garden storage can help you organise your outside space and keep things neat and tidy.
It Gives You Easy Access to What You Need
Forget having to rummage around in the cluttered garage or shed for garden tools. Get easy access to your wheelie bins while keeping them hidden from view. It easily gives you easy access to what you need when you need it.
Garden Storage Improves the Look of your Outside Space
Garden storage means less garden clutter. A lovely wooden storage unit, whether it's for bins or logs, can also really enhance the look of your garden. If you want your garden to look the part when people come round, garden storage is the answer to your prayers.
It Frees Up Space
Can't fit another thing in your shed? Is there not enough room in the garage to actually get your car in it? Garden storage can take some of the strain and help you store your outdoor essentials securely.
Garden Storage Can Help You Sell Your House
Yes, really. Your garden is the first thing potential buyers see when they are viewing your home. What impression will they get if your garden is full of clutter? Investing in some stylish garden storage will keep your garden looking its best and improve your chances of a sale.
Garden Storage: What Are Your Options?
General Garden Storage Units
Need somewhere you can store garden tools, kids' toys, and BBQ accessories? A beautiful handmade wooden garden storage unit will not only get rid of your clutter, it will complement your outside space too. Speaking of space, you'll get more bang for your buck with our storage units. They take up less space than a garden shed but provide you with more than enough room to store your essentials.
Wheelie Bin Storage
When it comes to garden storage, these are a must. Wheelie Bin Stores help to disguise your battered wheelie bins. They look the part. They keep your bins safe and secure from pests, thieves, and the British weather!
In our range, you'll find combination storage units that house your recycling boxes as well. No more chasing them down the street in high winds.
Log Stores
Are you the proud owner of a lovely log burner? Then you'll need a log store. Our log stores not only look stylish but they protect your logs from the weather, and creepy crawlies. As those cooler days set in, you'll want to light your fire quickly and easy so this unit is a must-have. Our units are durable, have a generous weight capacity, and are handmade from FSC-certified wood. A savvy and eco-friendly investment.
Looking for Garden Storage?
We've got general garden storage units, wheelie bin storage, and log stores in our beautiful handmade range. Hide those bins from view, get that lawn looking tidy, and organise those garden tools once and for all!
Need help finding your perfect match? Our friendly sales team are here to advise you on the garden storage you need. For more interesting articles on all things garden storage, check out the rest of our blog.