Working from Home: Why Not Have an Outdoor Office?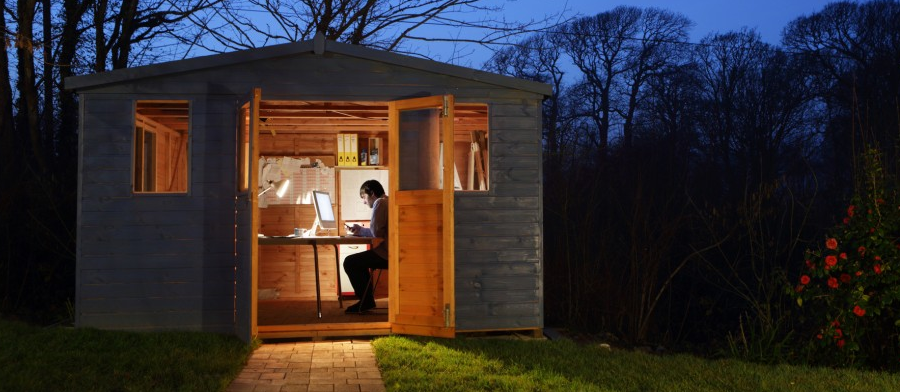 The number of people working from home in the last decade has increased by 1/5. Now as many as 1.5 million people choose to shun the daily commute in favour of a more flexible lifestyle. The desire for a better work/life balance, and the development of technology, has driven the shift towards home working. But if you work from home, where should you work? The spare room is an option, but a poky bedroom coupled with the kids disturbing you every few minutes is not very zen. Time for a new outdoor office.
What about an outdoor office?
Your garden can be a very calming place to work, away from the madness of family life. Here are some reasons to consider having a garden office;
Do away with the commute
What's better than having a perfect working environment, seconds from your home? Less time commuting means a better work/life balance and the ability to be far more flexible with your working hours.
It separates life and work
It can be easy to fall into the trap of blurring the lines between life and work if you work in a room in your house. An outdoor office helps you to draw a line between the two. Once your work is done, you can lock it up at the end of the day and go into the house to relax.
You can have a comfortable workspace all year round
Insulating your outdoor office will keep it cool in the summer and warmer in the winter, and choosing blinds and appropriate flooring will keep you feeling comfortable all year round.
How to make the most of your outdoor office space
So, you have an outside office space, but how can you keep clutter to a minimum and make the most of what might be a fairly small space?
Store things high in your outdoor office
If you are short on space, install bookcases or shelving where you can store things without taking up too much space. Store the things you use most often at the mid or lower levels and an office ladder can help you to reach the items you have to store up high.
Use the wall space
Get creative! Use things like spice racks or wine racks to store office supplies like paper clips and pens. As well as a creative storage solution, it can make for a quirky design feature too.

Filing doesn't have to be boring
Metal filing cabinets are not the most attractive items for your office and they take up a lot of space. Invest in mobile filing cabinets, or get upcycling and turn some vintage suitcases into a stylish storage solution.
If you are interested in even more helpful tips and interesting articles. Check out our blog.